The Taxi Dispatch System to rule them all
We understand how valuable time is in a taxi booking company. That's why we designed our taxi dispatch system with an emphasis on speed and saving you as much time as possible. Assign jobs to your drivers effortlessly, fast and efficiently. Our dispatch system boosts communication, adds automatic notifications to drivers which means more completed jobs and higher incomes for your company!
Makes management easier and saves time
Completing everyday tasks becomes easier and less time-consuming. In the admin panel you see all key dispatch features in one tab which allows you to react quicker and work faster.
You can track every driver in real time on the map. Controlling all your bookings is easier than ever: add new jobs and dispatch the existing ones effectively with a single click, see the latest and most urgent jobs on top. There is no more need to write things down and go through your papers to find something. It's all there, visible at a glance.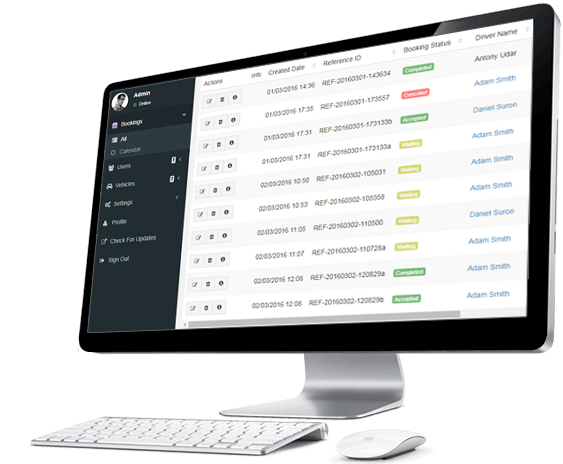 Control your team, communicate effectively
To succeed, everyone in your team needs to know what they should be doing - especially your drivers. EasyTaxiOffice makes sure they do. No more calling your drivers to give them all the new booking details.
We provide automatic notifications after a job is dispatched - drivers get all the details instantly, can get on with the job earlier. That means shorter arrival times, higher client satisfaction and minimizes the possibility of errors. You can choose the app, texts or e-mail to communicate with your drivers.
Your clients will appreciate the care
Travelling might be stressful for some customers. That's why our Dispatch System makes them feel taken care of from the moment they finalize their booking. Automatic notification inform the client who and what car to expect, when driver is on route and when they will arrive at the agreed pickup point. This allows the client to relax and also lessens the possibility of any mix-ups. Choose from various channels of communication with the customer (mobile app, sms or e-mails).
CallerID makes all the difference
The system recognizes clients from the database giving you vital information in a blink of the eye. The admin sees all the caller details even before picking up the phone. Now you may greet the caller with their name and build a bond with your customers which they will appreciate.
Among other data immediately available about your clients, you can easily skim through their previous bookings. Being informed is always an advantage and will help you to shorten the time needed to complete the booking.
Sounds easy enough? That's because it is easy. And it gets even better - the Taxi Dispatch System will improve your work experience in a variety of ways.
The software has been developed based on feedback from experienced controllers. Thanks to their insight, we were able to optimize our system for speed and efficiency. The many features work together seamlessly, producing a taxi software that will help your company reach the next level.
What are some other features of the the EasyTaxiOffice software? Find out, HERE.